Welcome to


Scottie & Son Auto Center

Safety • Trust • Loyalty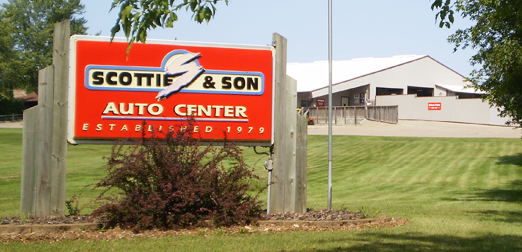 Scottie & Son is "The Team You Can Trust" for all your mechanical and body repairs! We have the knowledge, experience and equipment to keep your vehicle running and looking great, as well as the ability to fix it fast when something goes wrong.
Scottie & Son Auto Center provides:
• Alignments
• Transmissions
• Auto Body
Repair
• Diagnostic
• Engines
• Auto Body
Refinish
• Exhaust
• RV & Trailer
Maintenace & Repair
• Insurance
• Tires
• Air Conditioning
• Restorations
• Oil Changes
• Extended Warranties
• Custom Paint
• Brakes
• Loaner Vehicles
• Windshields
Loaner cars available! We know how difficult it is when your car is down for repairs. So we offer the convenience of a loaner car, shuttle service, and before and after-hours pickup/drop off.
Located conveniently off Highway 95 just west of Cambridge, we get it done right!
Need repairs but money is tight? Getting your vehicle fixed and keeping up on maintenace saves money. Paying a smaller amount over several months can make financial sense. Check out our credit card now!
Contact Scottie & Son - "The Team You Can Trust" - to schedule your appointment now!

Scottie & Son Auto Center

•

Stop in or call today!
2555 Hwy. 95 NW, Cambridge, MN • 763-689-3259

Maintain your car & save money!

Scottie & Son Auto Center
2555 Hwy. 95 NW, Cambridge, MN • 763-689-3259